City Link – Many of us have that link to the city, and many of us just enjoy the city, but the biggest link you can have to the city is by joining the social network for car lovers.  That is RpmCity.com!
Some of us express our link through our photos and images.  This is where our website comes in handy!  You can post any pictures, any time, and have fun with the other community members of the RpmCity.  Right now we have over 100 dedicated members that post about their cars.  Also the great part about this site, is that you can invite your friends and follow them just like you would in twitter.  As you can see bellow, you can follow this person.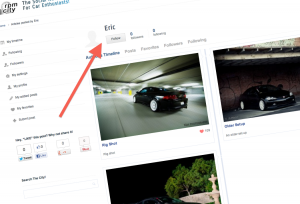 When you follow someone, you will start seeing the pictures, content, and information they post.  For example, if you follow me (RpmCity) you will start seeing all the awesome and slightly annoying posts that I post.  if you think i am annoying, thats fine and ok, just unfollow and you stop seeing the ugly content that I am making.  Or continue to follow me because you think I'm awesome.  Either way this is how it works.  Hope you enjoy!
Thank you for reading about the best link to the city you can have, its like a family.  You make it, you post it, you enjoy it!  Its your city, the RpmCity.  ->  www.RpmCity.com